SCENE-1
Household Insecticides
Understanding Pest Ecosystems from the Standpoint of Coexistence Between Humans and the Natural Environment Helps Us Create New Products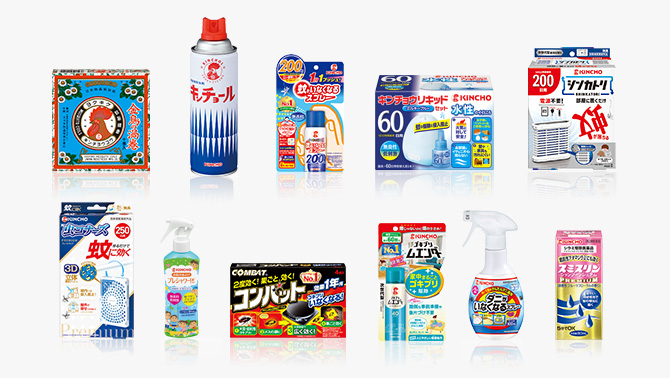 Kincho does not want to exterminate every insect in nature. Rather, the company's theme can be summarized as one of coexistence with pests, keeping them at a distance without changing their natural ecosystems.
However, the variety of insects infesting homes tends to increase with each passing year, and now, in addition to the usual mosquitoes, flies, and cockroaches, there are also ticks, ants, and other insects.
The company will therefore put more effort into R&D aimed at ensuring the effectiveness of its insecticides, while at the same time maintaining the highest level of safety for people and other warm-blooded animals. Kincho, through its products, offers people a more pleasant lifestyle.
more info *Link to the japanese site.
Kincho has a wide lineup of insecticides and bug repellents that begins with Kincho Uzumaki, a trusted symbol for over 100 years, Kinchol Aerosol, the first aerosol insecticide in Japan, and Kincho Liquid, a liquid mosquito killer developed with technology that was derived from our invention of the first electrically dispersed liquid mosquito killer in Japan.
More recently, we launched our Ka Ga Inakunaru Spray that eliminates mosquitos from any environment for 24 hours with one push of a button, and our Mushikonãzu series of easy-to-use repellents that consumers use by simply hanging or setting out somewhere.
Moreover, we are selling our Combat series of "double effective" bait for cockroaches and ants, which is currently the number one brand.